John Moreno
John Moreno, retired Battalion Chief of the SFFD, died peacefully at his home, at the age of 91, on January 20, 2015.
A native of San Francisco, John's family originally came from Southern Spain. His parents first settled in Hawaii in the early 1900's, then made their way to San Francisco where John and his two sisters were raised.
John was drafted at the beginning of WWII and spent several dangerous years in England as a B2H crew-member in the 8th Air Force. His crew successfully completed 34 bombing missions with John in the role of nose gunner. John was awarded a Purple Heart, the distinguished Flyer Cross as well as a Bronze Star for his bravery and dedication.
Following his wartime experiences, John gained the ranks of the SFFD in in October 1945. He rose to the rank of Lieutenant in 1962 followed by his appointment as Captain in 1967. He eventually rose to the position of Battalion Chief in 1976. His retirement followed in May 1978.
John and his wife Catherine relocated to St. Helena, California from Marin in the 1980's. John helped to design and build their home of which he was very proud. The home was influenced by John's travels to Spain, a country he was very fond of. John also travelled to many other parts of the world including most of Europe, Africa, Asia, South America as well as Hawaii and Mexico.
John was also an avid photographer, water colorist and dear to his heart, an enthusiastic and skilled Bocce Ball player. He and his wife Catherine, spent many happy Friday evenings with their Bocce friends in the St. Helena Bocce League.
Aloha Brother David Amituiani
It is with a heavy heart that we share that another brother has lose his battle with cancer. The San Francisco San Francisco Firefighters Cancer Prevention Foundation will continue in their mission to support those who are suffering, educate those who are unaware, and fight for those who are in need.
Thank you to the Board of the Foundation. Rest in Peace Dave.
Until there is a Cure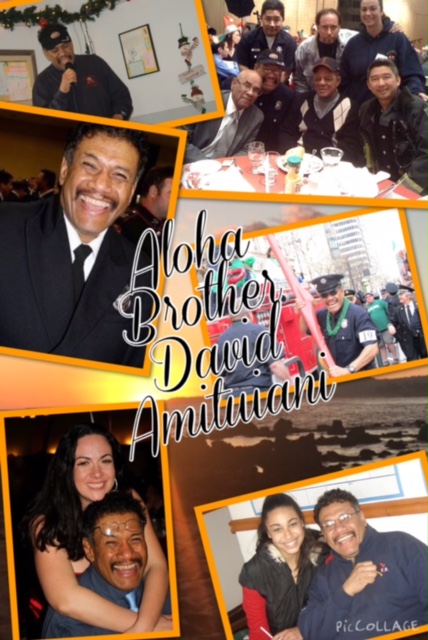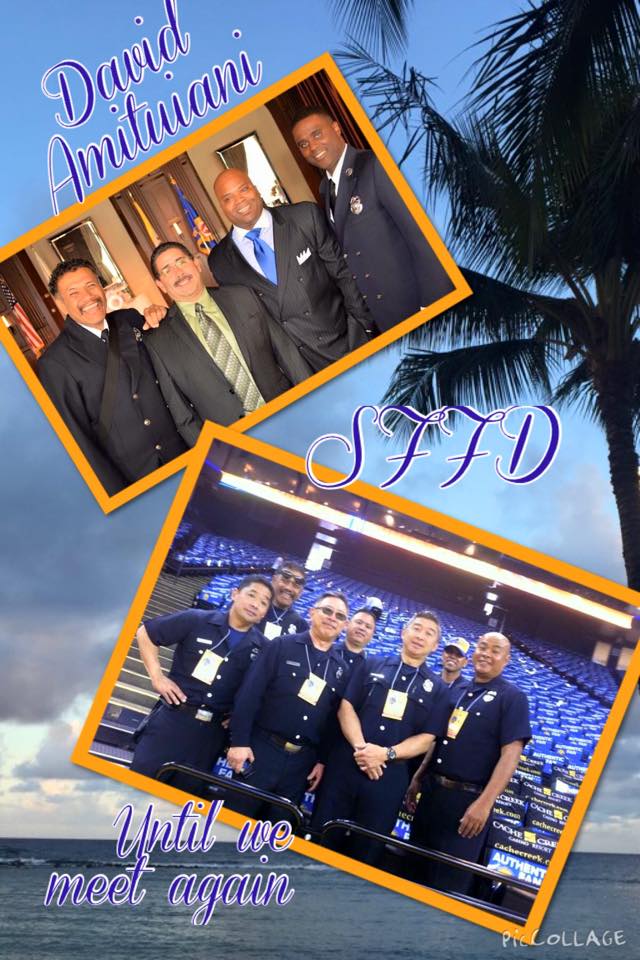 Lieutenant Jack Drago
To All Members:

It is with great sadness that we inform you of the passing of retired Lieutenant Jack Drago, who passed away on Friday, September 23, 2011. He was a member of the Fire Department from 1954 to 1983 and retired out of the Airport.

A Memorial Service will take place as follows:

Friday, September 30, 2011
1300 hours
El Rancho in Millbrae
1100 El Camino Real

Members who wish to attend in an off-duty status may wear their "Class A" uniform.
Joseph Francis Sullivan
Joseph Francis Sullivan 12/30/1920 - 07/25/2011 Native San Franciscan known by all who knew and loved him as "The Gentle Giant" who followed in his father's footsteps proudly serving over 30 years in the SFFD, Badge 107. He was a daily Communicant at St. Cecilia's Church and the loving father of his surviving daughter, Patricia Sullivan. He is also survived by his loving sister Claire Sullivan Haggarty, brother-in-law, Joseph Haggarty, cousin Mildred Connolly and her son, Paul, dear friend, Milda Wardenburg, nieces and nephews of Joseph and Claire Haggarty: Claire, Joseph, James, Kathleen, Charles, Mary and Ceceila, 18 grand-nieces and nephews and 16 great-grand nieces and nephews. Friends may visit Tuesday 3pm to 9pm with a Vigil Service 7:30pm, at Duggan's Serra Mortuary, 500 Westlake Ave., Daly, City. A Funeral Mass will be celebrated Wednesday 1pm at St. Cecilia Church (17th Ave. and Vicente San Francisco). Committal Holy Cross Cemetery, Colma.
William Hystad
To All Members:

It is with great sadness that we inform you of the passing of retired
Firefighter William Hystad. FF Hystad retired from the Department in
August
2003.

A Memorial Service is scheduled as follows:

Date: Thursday, June 30, 2011

Time: 12 Noon

Location: Crystal Springs Golf Club
6650 Golf Course Dr.
Burlingame, CA

Any member who wishes to attend in an off-duty status may wear their
"Class
A" uniform.
Robert Castelli
Robert Castelli

Resident of Redwood City

Born June 15, 1943 in San Francisco, Robert passed away peacefully at his residence in Redwood City on June 15, 2011. He was a proud member of the US Navy for 3 years, PG&E for 10 years and the San Francisco Fire Department for 28 years. Robert loved fishing, taking care of the home improvements as well as his lunches with the "Lunch Bunch".

Robert is survived by his cherished wife of 47 years, Shirley Castelli; adored father of Gary (Debbie) Castelli and Karen (John) Polati; devoted Papa of Nick & Meagan Castelli and Abby & Will Polati and loving brother of Larry & Tom Castelli. Robert was loved by his many nieces & nephews, cousins and cherished friends and will be greatly missed by all.

Friends may visit on Wednesday, June 22, 2011 after 5:00 pm and are invited to attend a Vigil at 7:00 pm at St. Pius Church. A Funeral Mass will be held on Thursday, June 23 at 10:00 am at St. Pius Church, 1100 Woodside Road, Redwood City with interment following at Italian Cemetery, Colma. Donations can be made to the Leukemia and Lymphoma Society.

Crippen & Flynn

Woodside Chapel

650-369-4103
John Driscoll
John Driscoll
John George Driscoll "Uncle John" Passed away peacefully at noon on June 15th at the age of 87 at his home at Alma Via with his family at his side. A native of San Francisco, CA he was preceded in death by his loving parents John and Mary Ellen "Nellie" Driscoll, and siblings the late Michael J. Driscoll and sister Julia Driscoll. He was the beloved uncle of Julie Farrah (Michael), Barbara Callan (Robert), Michele Alioto (Joseph), Catherine Cannata (James Murphy, late Steven Cannata), Michael J. Driscoll, Jr., Mary Toboni (Joseph) and Theresa Moore (Joseph). He was the cherished grand uncle of Michael (Maya Draisin), Anne, Soraya and the late George Farrah (1976), Robert (Andrea Gabusi), Geoffrey (Hilary Newsom) and Regina Callan, Michela Alioto-Pier (Thomas Pier), Angelina Alioto-Grace, (Daniel Grace), Joseph (Erica Galos), and Alexander Alioto, Joseph (Elizabeth Heldfond), the late Steven (2002), Bridget, Chelsea (Michael Cherin) and Teressa Cannata, Elizabeth, Erin-Marie (Rieve MacEwen) and Jennifer Driscoll, Michael, Joseph, Gianna, Paul and Jacqueline Toboni, Regina, Joseph and Madeleine Moore. He was the cherished great grand uncle of 16 nephews and nieces. He was a
fire fighter
in the San Francisco Fire Department for more than thirty years, retiring as an inspector. He served his country in
World War II
in the United States Coast Guard. He was a devoted member of St. Thomas More Parish. Our very special thanks to the dedicated and loving staff and caregivers, as well as his good friends at Alma Via, where Uncle John lived so happily for the last years of his life. In lieu of flowers the family requests that donations be made to the Steven D. Cannata Scholarship Fund at St. Ignatius College Preparatory, 2001 37th Avenue, San Francisco 94116 or Alma Via of San Francisco 1 Thomas More Way San Francisco, CA 94132-2914 Private services were held.
Richard Ames
Richard Ames At rest after a two year battle with multiple myeloma. Rich was born on July 25, 1948, in San Francisco. He was a graduate of Holy Name of Jesus Grammar School, St. Ignatius High School, and the University of San Francisco. He loved basketball, and he enjoyed great success as a player and coach for many years. Rich served with the San Francisco Fire Department from 1975 to 2003. Rich was preceded in death by his parents Frank and Marcella Ames and by his brother Frank Ames. His beloved wife Alice Maney Ames died in 2003. Rich is survived by his three sons, Justin and Devin, of Sacramento, and Jeremy, of Mansfield, Texas; by Jeremy's wife Dana and Rich's cherished granddaughter Brooke. He is also survived by his brother Jerry, of San Rafael, and his sister-in-law Lois Ames of San Bruno, and by numerous nieces and nephews in the Bay Area. Rich will be remembered as a lover of travel, sports, good books, and lively conversation. Not one to stand on ceremony, Rich offers a few last words: "I enjoyed a gloriously common life, the particulars of which would bore you to death. What could have happened, did." And an Irish blessing, in his name: May the Luck of the Irish possess you. May the devil fly off with your worries. May God bless you forever and ever. A memorial Mass will be celebrated on Thursday, May 19, at Our Lady of Loretto Church in Novato, at 10:30am. Donations in Rich's name may be made to Hospice by the Bay.
Published in San Francisco Chronicle on May 18, 2011
Louis Rouspil
Louis Rouspil
Louis Laurent Rouspil Resident of Hayward, California May 6, 1920-April 22, 2011 Louis Laurent Rouspil passed away on April 22nd at the age of 90, with his wife by his side. After suffering a fall on February 6, 2011, causing multiple spinal fractures, the ensuing disabilities associated with immobility, combined with age, proved too much for his strong will and spirit to overcome. Louis was noted for being the consummate gentleman; his positive attitude toward all things has truly been inspiring to all of us, his Family and Friends. Louis Rouspil was born in San Francisco, California. He was the son of French immigrant parents, Villenave and Celeste. Although, an all American through and through, he was attentive of his French heritage. He graduated from Balboa High School, and attended classes at San Francisco City College before joining the U.S.
Army
to serve in Italy during
World War II
. In February of 1947 Lou was accepted into the San Francisco Fire Department, where he enjoyed a 30 year career, until his retirement in 1977. Lou was always extremely proud of his years in the Department, as are we his family. Never one to sit idle, Louis would work as needed for the Longshoremen on many of his off days. After retiring he continued to work for a short time as a School Bus driver. Louis greatly enjoyed spending time in his garden, KGO radio, current events, and debating anything and everything. He was also known as quite the firehouse chef. Louis Rouspil is survived by his loving wife Gloria Hunter-Rouspil, and an extended family including; his daughters Judy Stadelman of Diamond Springs, Barbara Bell of Waukegan, IL, his stepchildren; Jacqueline Ward of San Jose, Larry Hunter of Oakland, Sherry Andrade of Brazil, and Randal Hunter of Reno, NV, and many, many devoted Grand and Great-Grandchildren. He is also survived by his nephew Robert Rouspil of South San Francisco. Friends and Family are invited to attend a Memorial Service on Monday May 16, 2011 at 1:00PM, at Chapel of the Chimes Memorial Park, 32992 Mission Boulevard, Hayward, CA 94544. In Lieu of flowers please make contributions in the name of Louis L. Rouspil to either of the following: The San Francisco Firefighters Toy Fund Widows and Orphans of the San Francisco Fire Department Fund, c/o SF Firefighters Union Local 798, 1139 Mission St. San Francisco Ca, 94103. Chapel of the Chimes (510) 538-3131
Published in San Francisco Chronicle on May 8, 2011
Bruno Bassi
To All Members:

It is with great sadness that we inform you of the passing of retired
Assistant Chief Bruno Bassi. AC Bassi retired from the Department in 1975.

A celebration of his life is as follows:

Funeral Service: Tuesday, April 5, 2011
1400 hours
St. Cecilia's Catholic Church
2555 17th Avenue
San Francisco

Any member who wishes to attend in an off-duty status may wear their "Class
A" uniform.
2010 Last Alarm
William Gillikin
Robert Foppiano
Ken Allen
Clyde Carstensen
John Pavloff
Tom Sheehan
Christopher Zaczek
John Cuddy
Jeremiah Guiney
William Tobin
Raymond Farnsworth
Richard Sovin
Roger Bouyea, Sr.
Donald Webster
Roy Podesta
James Keefe
William Costello
George Delfino
Victor Garibaldi
Hubert Conway
John Hagenah
Donald Tucker
Kenneth Jones
Ray Young
Paul O'Kane
Salvador Fama
Joseph Medina
Frank Cercos
Phillip Garcia
Jack Pacheco
Lieutenant Milivoy Mikovich
It is with great sadness that we inform you of the passing of retired Lieutenant Milivoy Mikovich. He retired from Engine 7 in 1977. Details of the funeral arrangements are as follows:
Visitation: Wednesday, August 4, 2010 1500 - 1900 hoursVigil: 1900 hours Duggans Serra Mortuary 500 Westlake Daly City
Private burial at Serbian Cemetery, Colma

Captain Michael Sullivan
Retired Captain Michael Sullivan from Staion 1 passed away on Tuesday, May 4, 2010. His funeral arrangements are as follows:
Vigil:
Sunday, May 9, 2010
19:30 hours
St. Gabriels Catholic Church
2559 40th Avenue, (between Ulloa and Vicente Streets), San Francisco
Funeral:
Monday, May 10, 2010
1100 hours
St/ Gabriel's Catholic Church
2559 40th Avenue, San Francisco
John F. O'Sullivan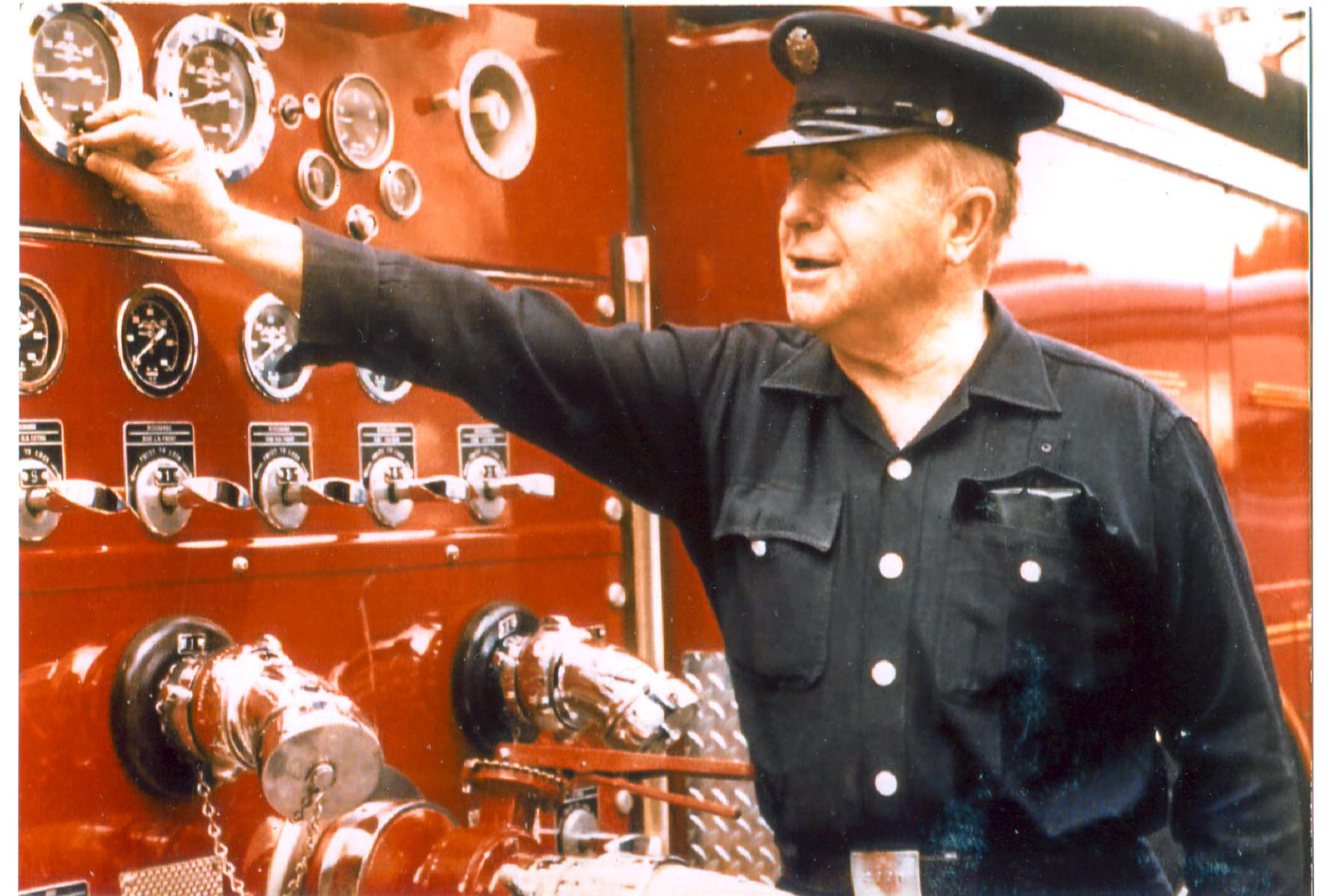 Retired Firefighter John F. "Johnny-O" O'Sullivan passed away on March 7, 2010, after a brief illness.
A native of San Francisco, John graduated from Sacred Heart High School. During World War ll he served in the U.S. Navy as a Carpenter's mate aboard the Destroyer Tenders USS Prairie (AD-15) and USS Frontier (AD-25).
After the war, he joined the SFFD and was initially assigned to 15 Truck, which at that time was quartered with 39 Engine. In the early 1950's John became a driver-pump operator while stationed at old 15 Engine (now 38). For over 20 years, he was a driver at 3 Engine, before retiring as a driver of 10 Engine in January, 1983.
During his many years with the SFFD, John witnessed significant changes in the Department such as the replacement of the old dual pumpers and tank wagon units with modern triple combination pumpers, aerial ladders replacing the old city service ladder trucks, filter-type masks phased out by self-contained breather apparatus, and the transition from open-cab to closed-cab apparatus.
John possessed excellent carpentry and fine woodworking skills, and also enjoyed classic car restoration projects.
He was a devoted husband to his wife Nora, a devoted father to Kathleen, Mary, Joann, and John (Jack) Jr, and cherished his role as a grandfather of five.
Private funeral services were held at St. Raphael's Church in San Rafael. Internment was at Mt. Olivet Catholic Cemetery in Marin. May he rest in peace.
Submitted by Jack O'Sullivan
Page Last Updated: Jun 17, 2015 (10:31:13)